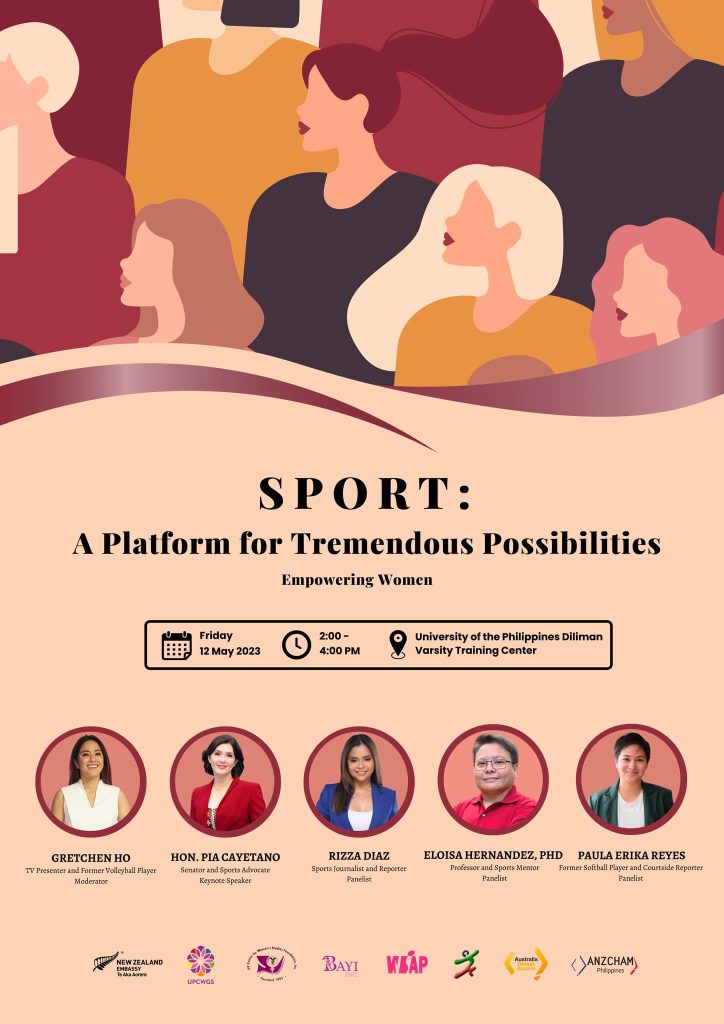 The University of the Philippines Center for Women's and Gender Studies (UPCWGS) , in collaboration with the New Zealand Embassy, the UP Center for Women's Studies Foundation, Inc. (UPCWSFI), Bayi, Inc., the Women's and Gender Studies Association of the Philippines (WSAP), the UP Diliman College of Human Kinetics (CHK), Australia Global Alumni, and the Australian-New Zealand Chamber of Commerce (ANZCHAM) Philippines, Inc., invites everyone to attend the event, SPORT: A Platform for Tremendous Possibilities Empowering Women, on 12 May 2023 (Friday), 2:00-4:00 PM at the Varsity Training Center, University of the Philippines Diliman.
TV presenter and former volleyball player Gretchen Ho will be the event's roundtable discussion moderator. Senator and sports advocate Pia Cayetano will be the keynote speaker.
Resource persons include sports journalist and reporter Rizza Diaz, professor and sports mentor Eloisa Hernandez, and former UP Softball Team player and courtside reporter Paula Erika Reyes.
Eight-time UAAP Cheerdance Competition champion, UP Varsity Pep Squad, will open the event. Former UP Varsity Pep Squad Team Captain Maegan Cabrera will be hosting the event.
Admission is free. However, we only have limited slots. Register through the link to secure your spot: https://bit.ly/SPORT2023.
For questions, please call or message the event's point person, Vince Hermoso of the UPCWGS Training, Extension, and Outreach Program, at 09953422151.