Angat Bayi started in 2018. The first Angat Bayi Women's Political Empowerment Program was envisioned to contribute to the elimination of barriers to women's entry into politics and to help enable the full and meaningful political participation of women politicians already elected into office. The Program strives to help realize an imagined alternative political reality: first, by developing women leaders who actively promote a holistic social development agenda, and, second, by mobilizing volunteers focused on growing an electorate around a common set of values and principles that should become the basis for future voting behavior.
Through decades of advocacy, Filipino feminists and gender advocates have successfully pushed for reforms towards genuine women's empowerment. Consequently, gender parity in voting has been achieved. However, the same cannot be said of the gender distribution among candidates running for office. The data shows that women constitute only a fifth of the candidates who run for elective posts. The political sphere continues to be male-dominated and women intending to enter this domain are more likely to be met with tougher obstacles. When women candidates win, they do so only after surmounting greater hurdles than do their male counterparts.
Certainly, two of the more crucial requirements for entry into politics are campaign funding and one's electoral network. Candidates from long-time political families will always have an edge: being part of a political dynasty means ready access to funding, political capital, and an effective machinery that can easily clinch election victories. However, the so-called "benchwarmer" phenomenon is more common among elected women officials belonging to political dynasties. "Bench-warming" women are typically those whose husband, father or brother have completed the maximum number of terms in office, and consequently, were tasked to hold the post for one term until the male relative is eligible to run again.
There are also socio-cultural barriers which make the road to political victory harder for women. Traditionally, leadership standards have very much favored masculine traits. Thus, women politicians are forced to adapt: constantly negotiating and carefully calibrating their public selves in order to be perceived as "strong", "authoritative" and "decisive", to name a few of the traditional masculine traits very much associated with being a good leader. Further, once elected, women officials' political capital remains unstable, vulnerable to sexualized attacks that are only potent when hurled at women.
The macho and vicious culture of politics also turns off many aspiring female politicians. Aside from building their confidence, capability, and viability as candidates, the women also need to develop the courage and strength to endure and fight against sexist attacks that are not normally directed at male candidates. But since society does not view women as leaders and politicians, opportunities to prepare them to be capable and effective leaders are scarce.
Lastly, care work in families and households, which women are always expected to take on, result in multiple burdens which make it more difficult for them to commit to public service. Most often, women's decision to enter politics come later when they are no longer tied to child-rearing.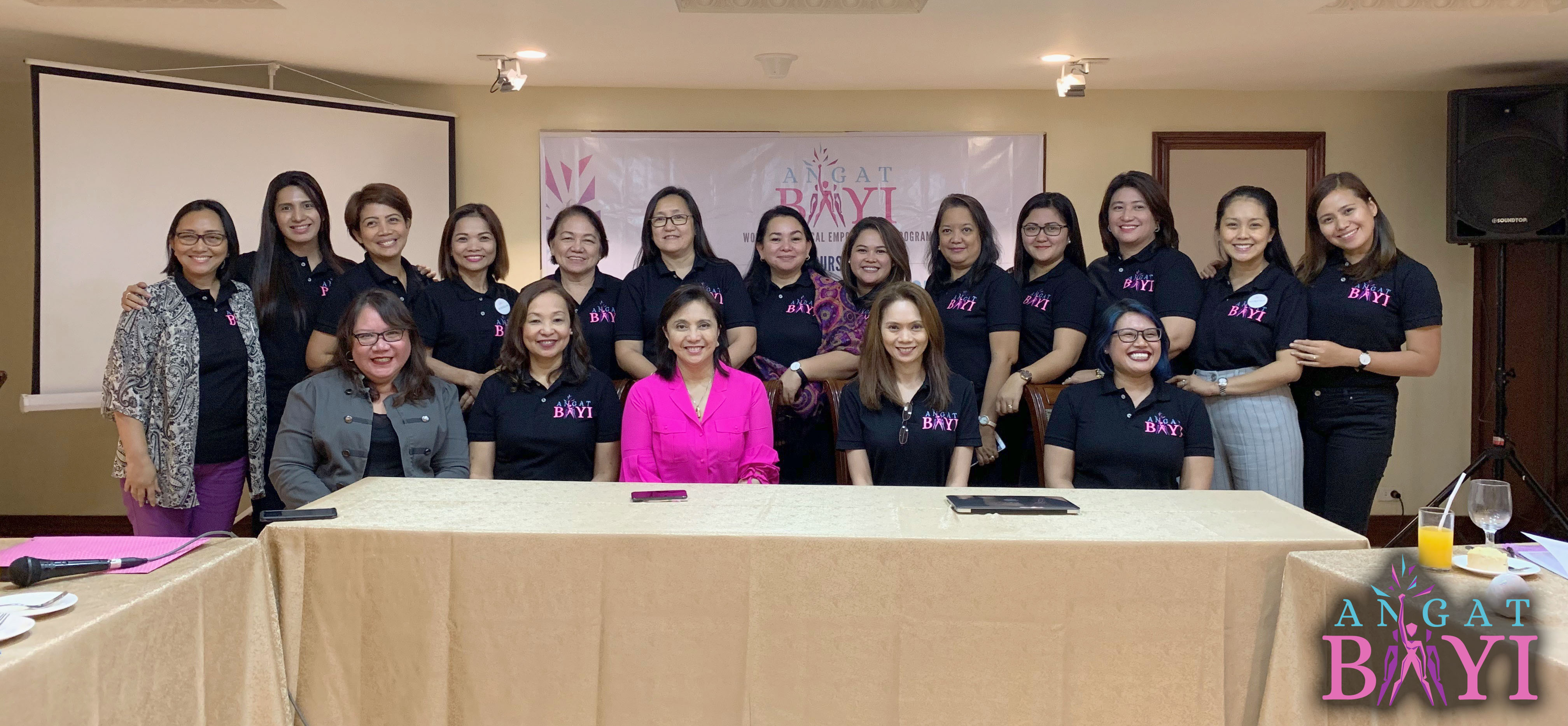 The Angat Bayi pilot run in 2018 introduced the Political Empowerment Fellowship (AB PEF) program. This contributed directly to the enhancement of the skills and capacities of women politician leaders from across the country. In October of that year, after a thorough nomination and selection process, 18 incumbent elected women city/municipal officials were chosen to be the first batch of AB PEF Fellows.
Through this program, the Fellows participated in short courses on the following topics: feminist leadership; rights-based, democratic, and good governance; building and protecting democratic institutions and processes; and promotion of active citizenship. They were also given the opportunity to learn from the local government units of Quezon City and Naga City. Through site visits, orientations, and discussions with local officials, the fellows learned about LGU good practices and ongoing effective programs, initiatives, and services on women's empowerment and gender equality.
In addition, the Fellows were introduced to seven (7) seasoned women political leaders, as their peer mentors. Aside from having had more years of experience in politics, the mentors are women leaders who have exhibited their commitment to feminist leadership; rights-based, inclusive, democratic, and good governance; and the value of active citizenship. These introductions paved the way for rich and meaningful discussions between the Fellows and their peer mentors, with the exchanges spanning both political and personal experiences, learnings and strategies.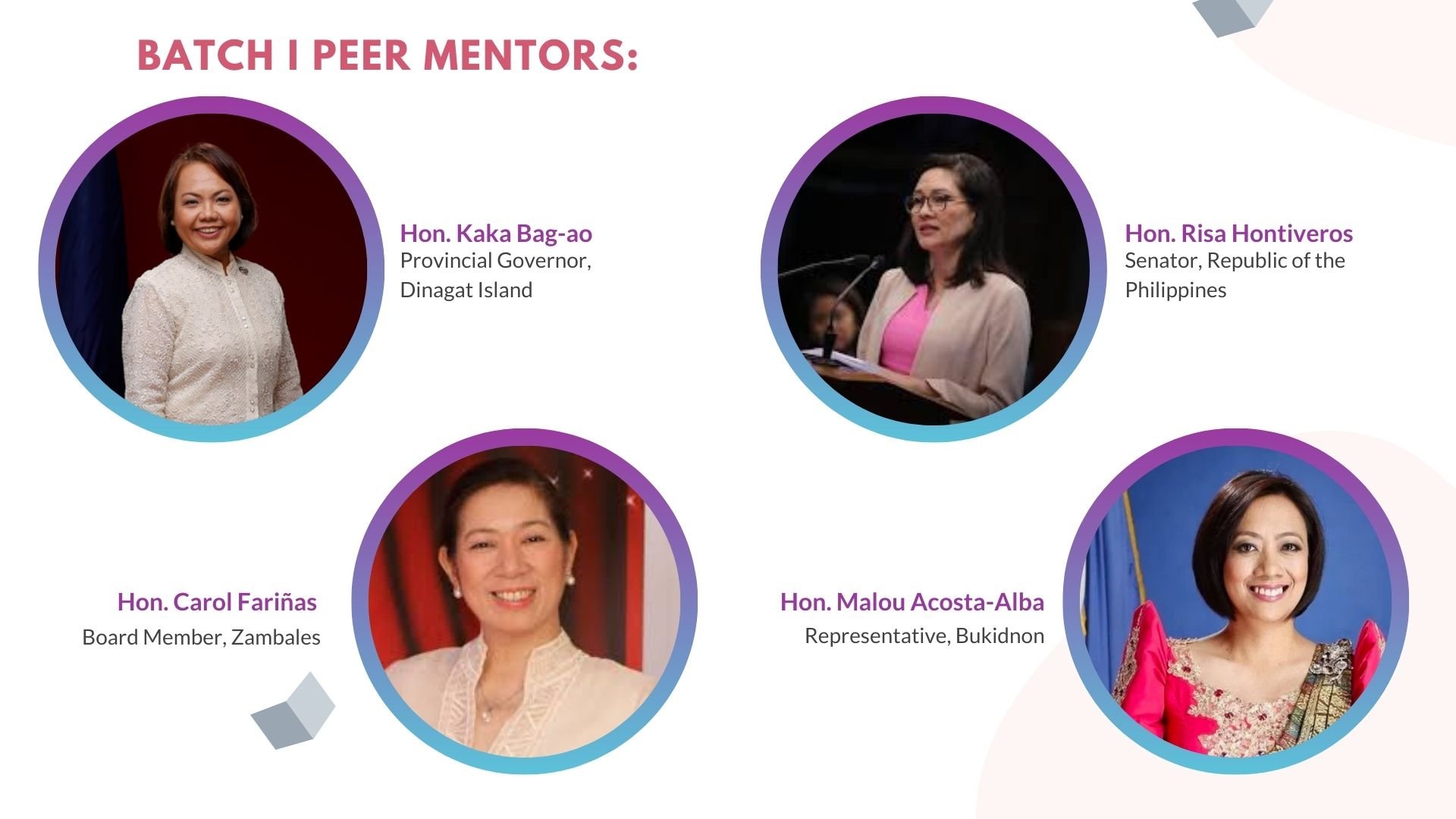 Participation in the fellowship led to immediate results with the fellows successfully pushing for the passage of ordinances and setting up local programs. Several have also signified their interest in replicating a local grassroots version of the Angat Bayi Program.
GOALS OF THE ANGAT BAYI PROJECT
The Angat Bayi Women's Political Empowerment Program aims to develop and support current women leaders at the city/municipal level who will carry and advance a people-centered, rights-based, gender-responsive, participatory, empowering, equitable, inclusive, and sustainable development agenda. It enhances the capacities of these women on the following:
feminist leadership
inclusive, rights-based, democratic, and good governance;
building and protecting democratic institutions and processes; and
promotion of active citizenship
COMPONENTS:
Building on the pilot implementation, on its second year, the Angat Bayi Program has been improved and expanded to include the following:
Fellowship Programs on Feminist Leadership: Angat Bayi Political Empowerment Fellowship (AB PEF) Program & the Angat Bayi Young Women Fellowship Program
Similar to the AB PEF pilot program, twenty (20) elected women leaders from the National Capital Region, Luzon, Visayas, and Mindanao were chosen for the fellowship this year. The fellows are also undergoing mentoring sessions with selected experienced and seasoned political leaders who believe in the Angat Bayi values and principles.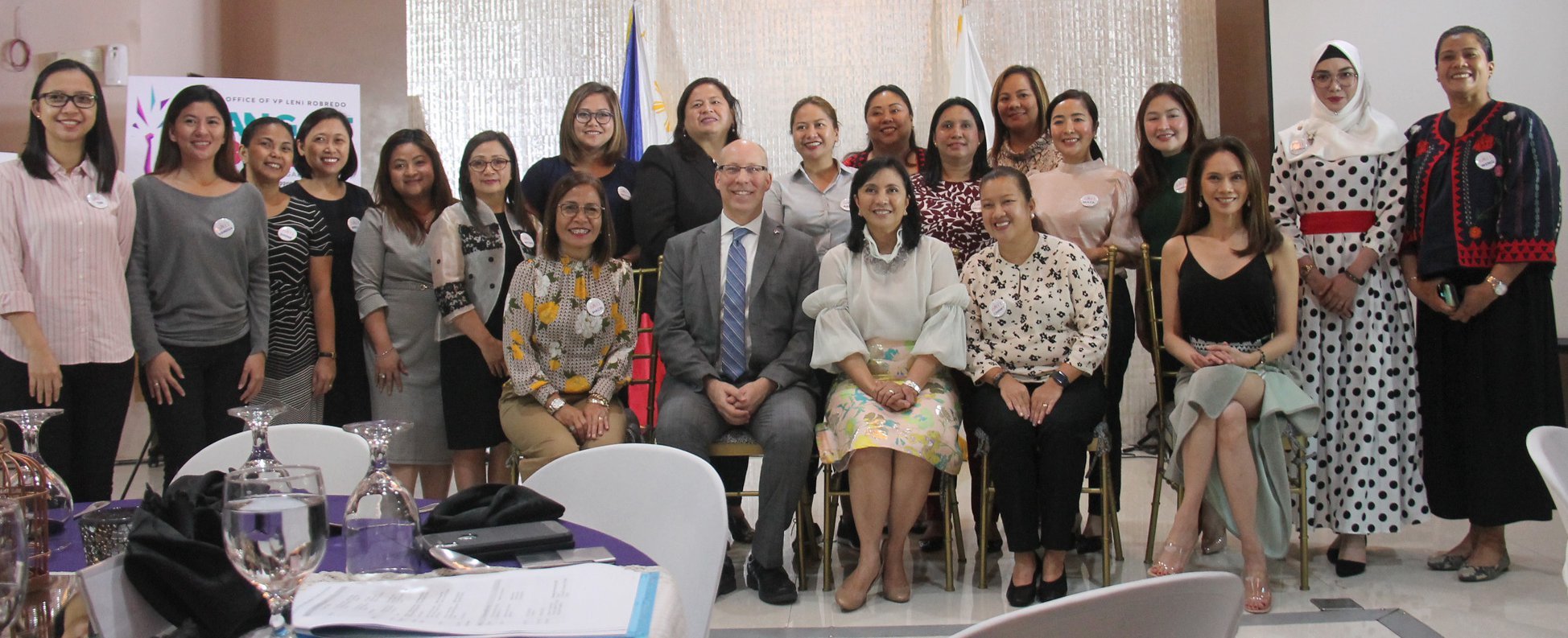 They are also required to attend selected short courses, through a blended learning method consisting of both online learning (via the platform certified-edu.net) and face-to-face sessions. Lastly, the program also includes a safe space for the fellows to meet and share their reflections, learnings and insights with each other and with the peer mentors.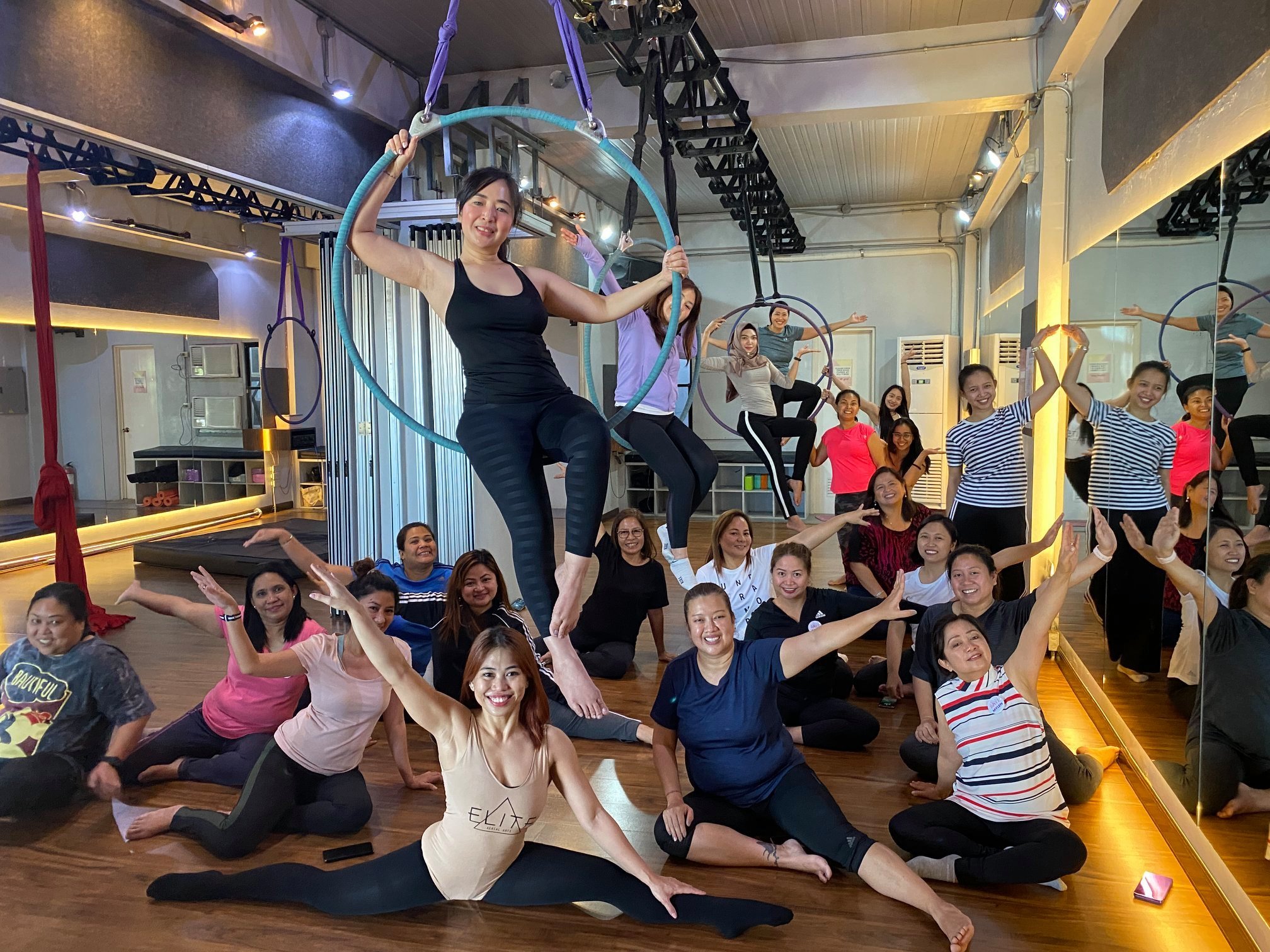 The Angat Bayi Young Women Fellowship Program is a grassroots women's empowerment program. The pilot run was conducted in Candon City, Ilocos Sur, in partnership with Angat Bayi Fellow and Candon City Councilor Joanne Valdez and the Candon Youth for Empowerment Movement (CYM). Through the pilot initiative, young women were capacitated and organized to enable them to participate meaningfully in the political arena of their city/municipality. The training course for the young fellows introduced them to the values and importance of feminist leadership; inclusive, rights-based, democratic, and good governance; and active citizenship. The module design was patterned after the AB PEF module but using creative pedagogy, such as expressive arts, movement, and literary pieces.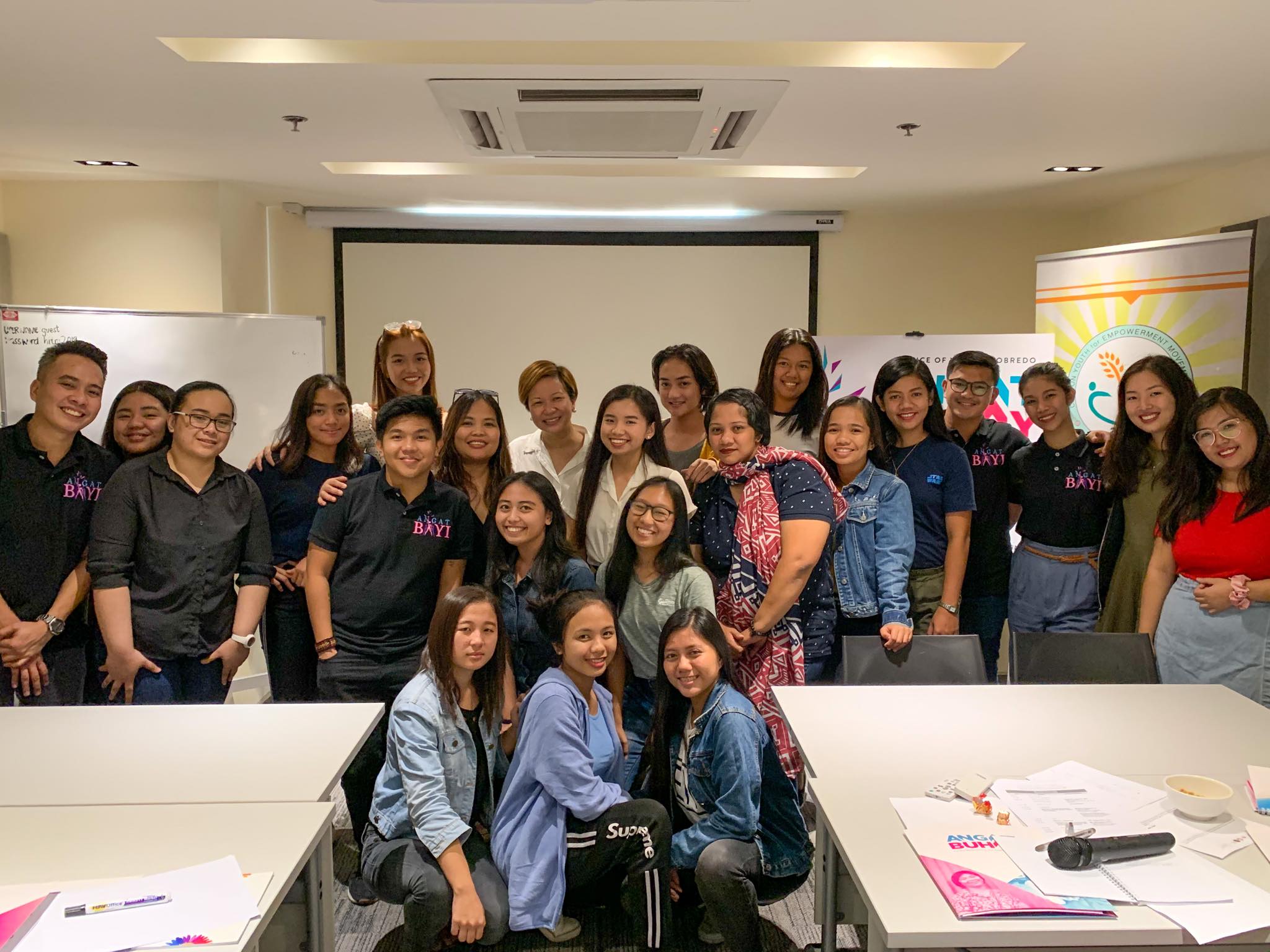 To begin with, this fellowship program for young women was envisioned to contribute to changing citizens' perceptions and attitudes around supporting and voting for candidates in future elections. Further, it also aims to eventually develop a second line of feminist leaders who will be interested in and open to running for local positions.
BAYI Peer Mentoring Circles
A key realization from the pilot implementation of Angat Bayi was how the Fellows cherished the feminist space provided them through the program. They found it helpful and reinvigorating to have been able to share their political and personal experiences with each other and with their mentors in a safe and supportive environment that was free from judgment and the burdensome expectations of a largely patriarchal political culture.
Consequently, this 2020, Angat Bayi has created Bayi Peer Mentoring Circles (BAYI PMC): feminist small groups that is each meant to be collaboratively designed by the Angat Bayi Team, the Fellows and Mentors according to the specific needs and priorities of group members. This kind of collaborative effort is in keeping with feminist values.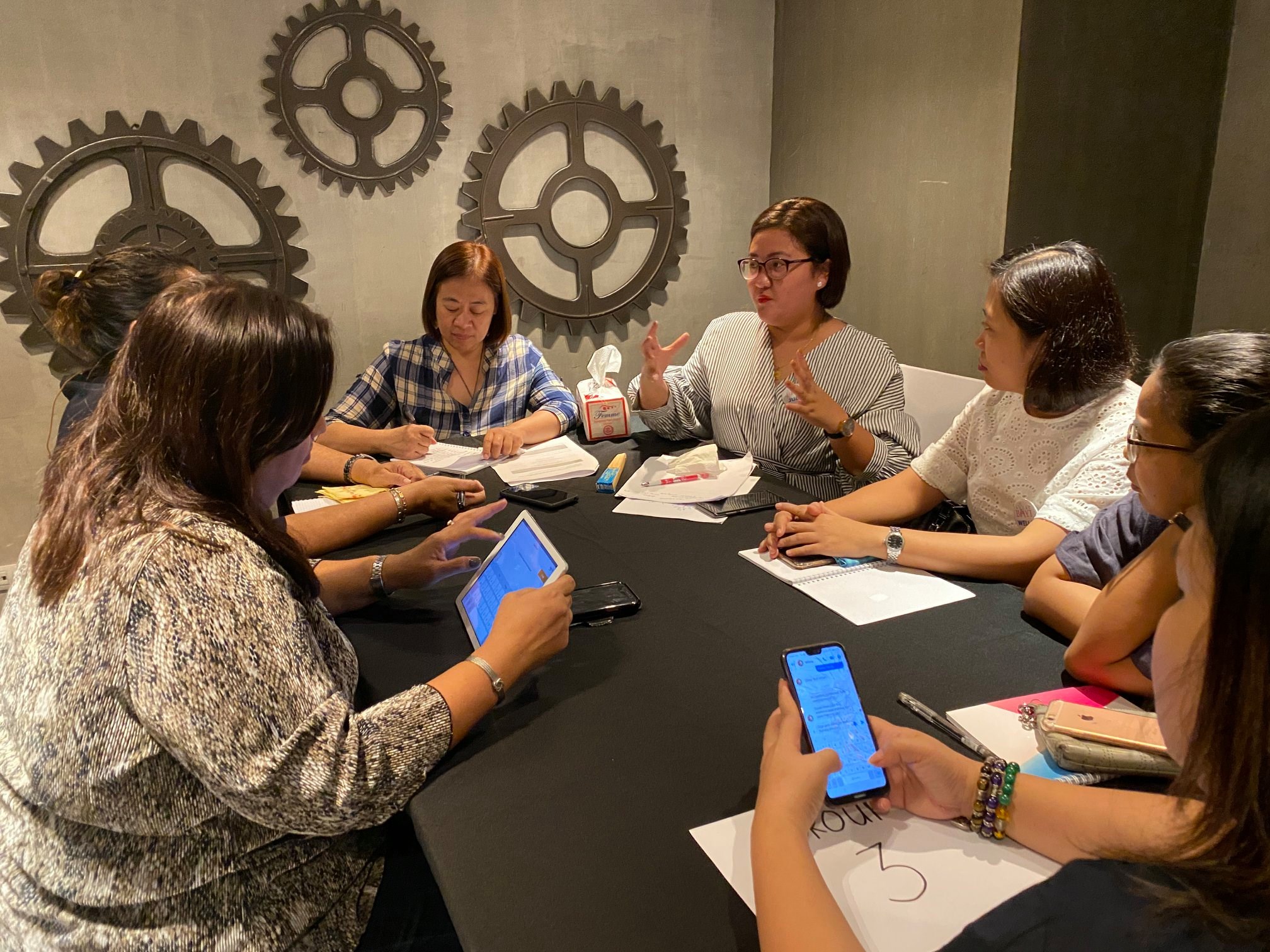 The various Bayi PMC have organized mentoring sessions through which the women leaders have been able to safely articulate their needs and emotions, find courage and inspiration in each other's work and experiences, capacitate themselves on various areas and concerns, and collaborate closely on shared issues and initiatives. The fellowship, particularly through the Bayi PMC, has also provided the Fellows an opportunity to develop alternative ways of working, governing and being leaders different from the prevailing macho and often vicious culture of politics. It has encouraged them to draw strength from each other in pushing for a feminist brand of leadership in governance.
Angat Dunong: BAYI Research and Policy Reform
Through Angat Dunong, Angat Bayi carries out research studies on feminist leadership, women's political participation, Fellows' responses to the pandemic, and other topics on gender and leadership. Recently, a policy brief was prepared and presented to legislators, policy implementors, and other stakeholders in partnership with the Office of Bukidnon First District Representative and Chair of the Committee of Women and Gender Equality Malou Acosta-Alba and the De La Salle College of St. Benilde School of Diplomacy and Governance.
Under this component, Angat Bayi has also partnered with The Asia Foundation Coalitions for Change Gender Reform Team in crafting gender-responsive ordinances for Fellows to pass in their respective LGUs. In less than a month, several Fellows were able to file the Gender-Based Violence Response Mechanism and Protocol Ordinance in their respective cities and municipalities. Currently, it is expected that the ordinance will be legislated in a minimum of 10 municipalities before the year ends. In addition, Fellows are also expected to be able to file the ordinances on Teenage Pregnancy Prevention, and Elimination of Online Sexual Abuse and Exploitation of Children (OSAEC) within the year.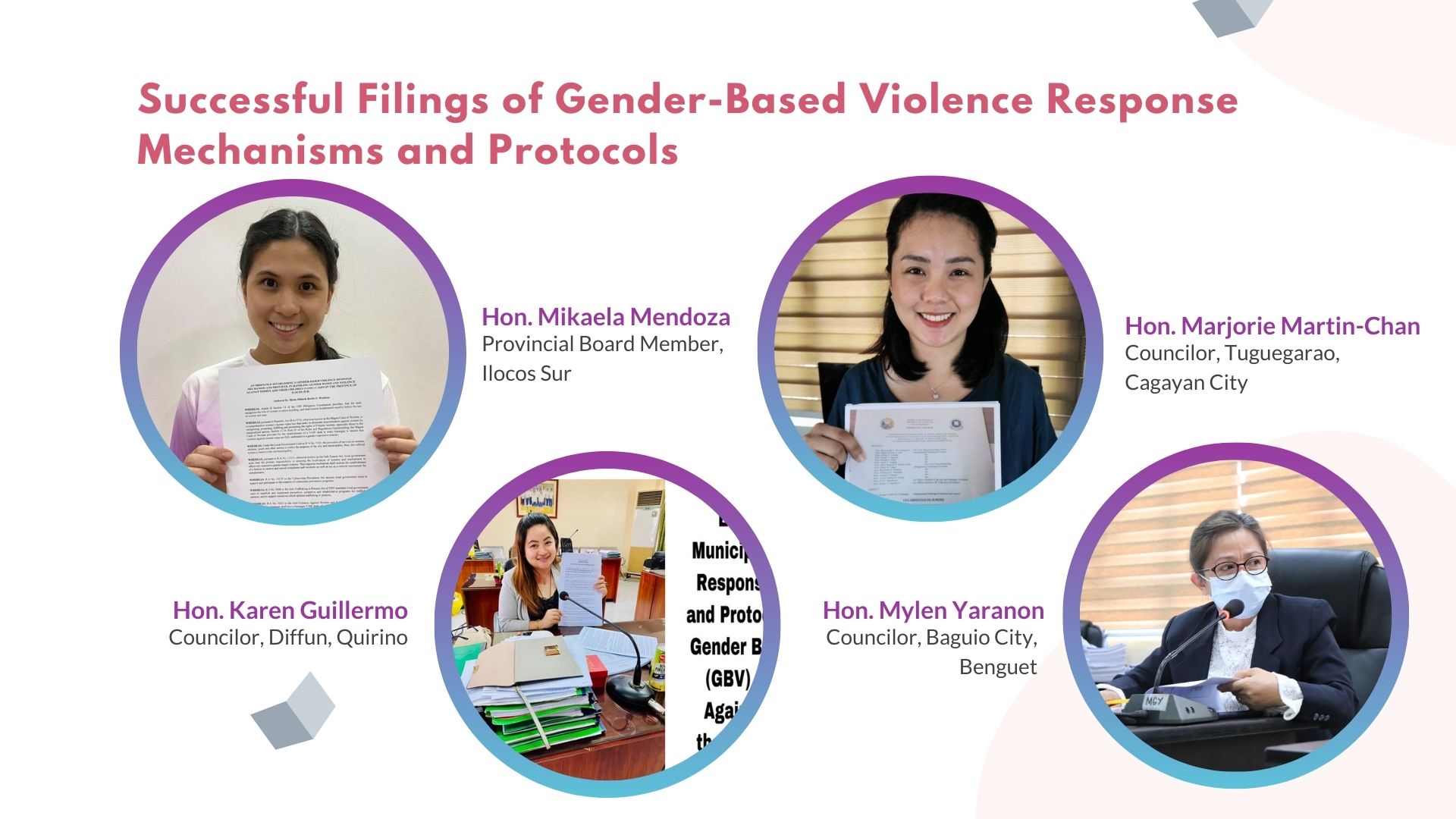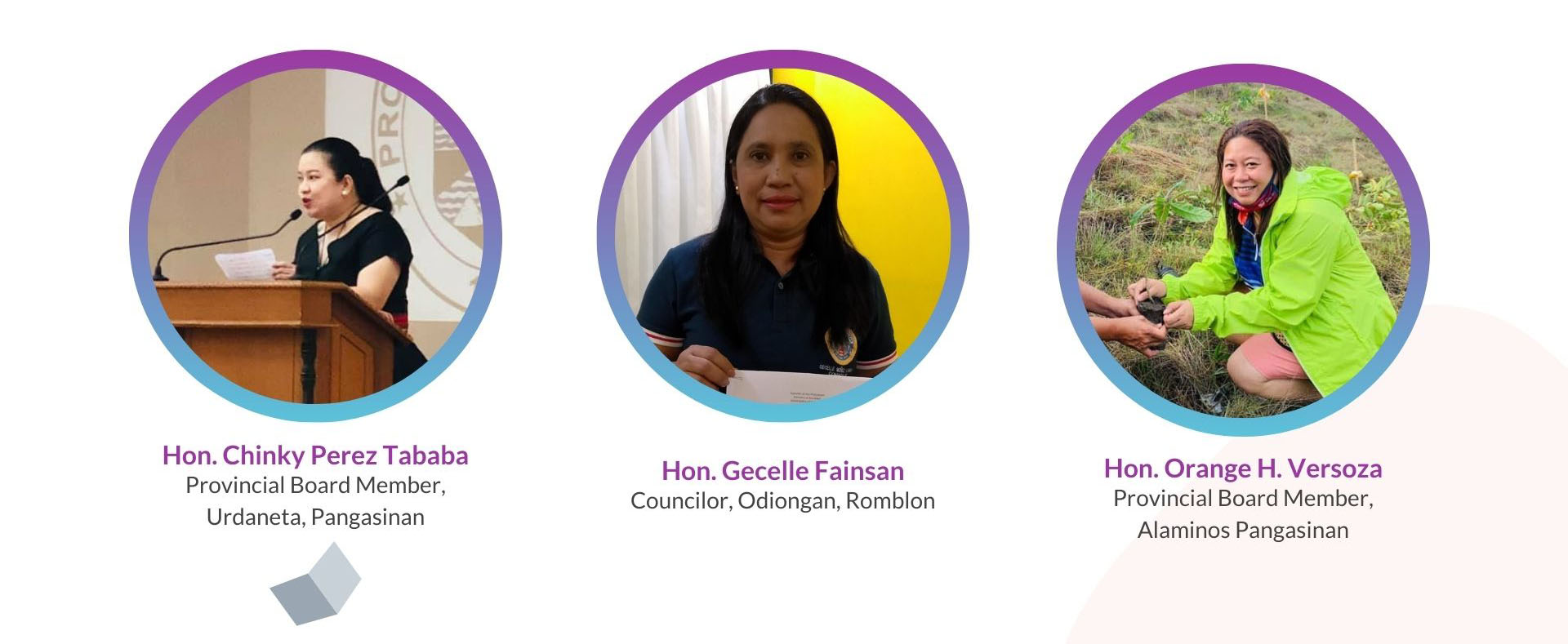 Angat Diwa: BAYI Learning Sessions
The Angat Diwa Bayi Learning Session is the space where Fellows, political leaders, and experts meet to share and discuss ideas and strategies to assist the women leaders in the performance of their duties in their respective local governments. Starting from March 2020 up to this writing, nine Bayi learning sessions have been successfully conducted on various topics requested by the Fellows. Further, Angat Bayi had the honor and privilege of having leading legal experts, high government officials, prolific academics, women activists, and change makers both in the Philippines and abroad join in the sessions as resource persons.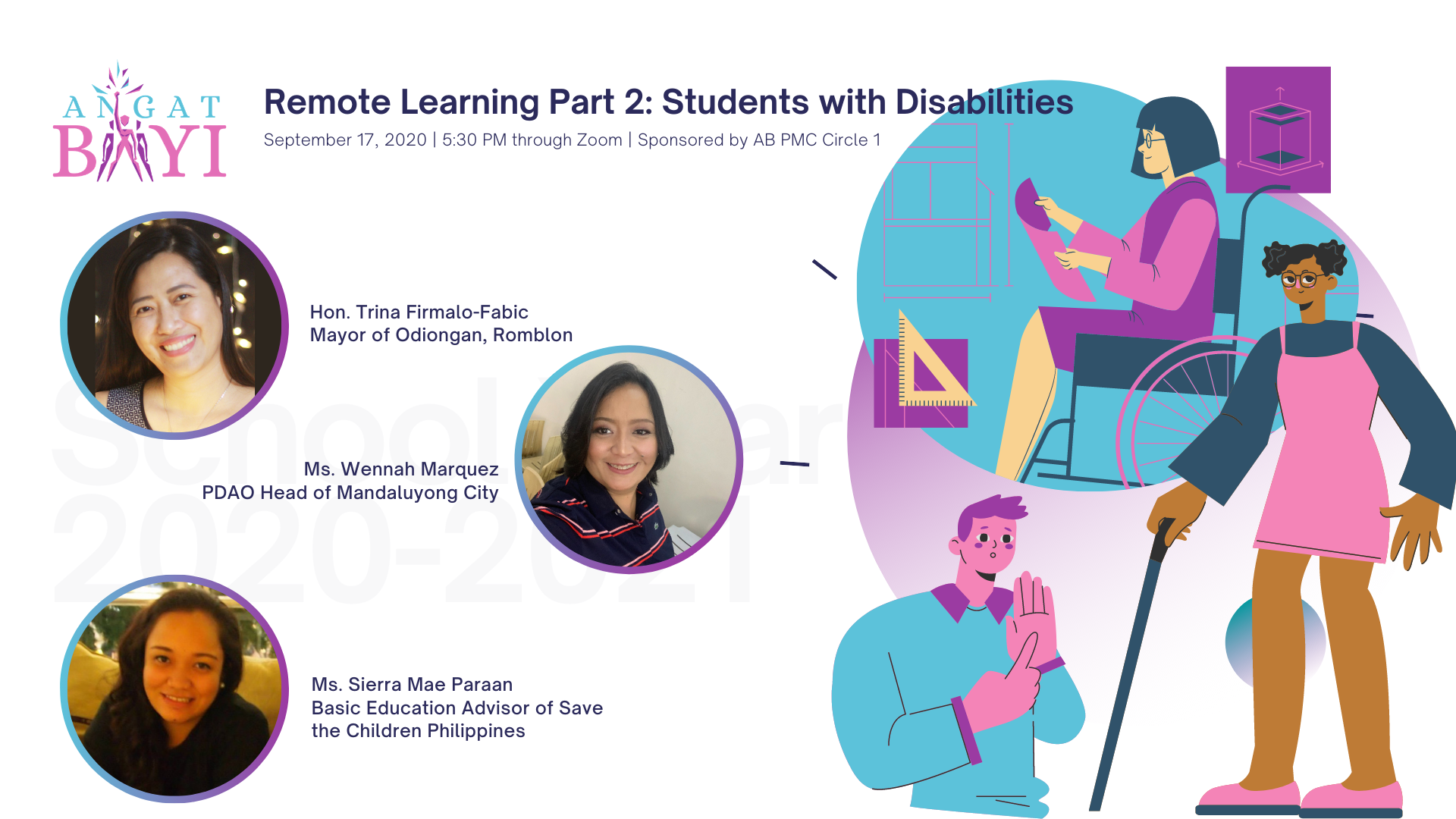 Likhang BAYI: Innovative Advocacy and Programs
The Likhang BAYI component encourages young feminists to develop out-of-the-box solutions to pressing problems and creating innovative advocacy and programs in furthering feminist leadership. For instance, Angat Bayi provided support in establishing the Feminist Media Lab, a start-up advocacy group exploring and promoting feminism in media production and media studies through its feminist media studio, media network, media school, and media research. Together with Feminist Media Lab, Angat Bayi produced "Chikang Bayi", a podcast that tackles feminist issues and concerns.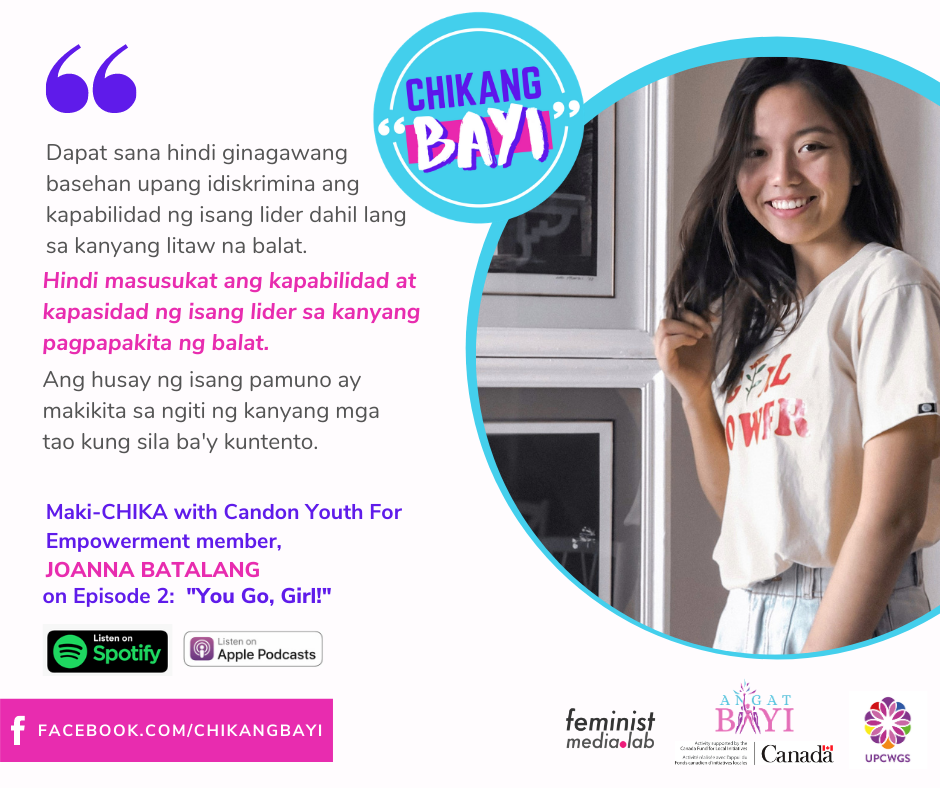 BAYInihan: Sisterhood and Collaboration
The Fellows appreciate the value of the bonds they have formed and the support they receive from their peer mentors and co-Fellows as they persevere in the challenging work of social transformation. They are inspired to further strengthen and maintain the partnerships developed in the course of the program. They recognize the value of just simply coming together and learning from each other and forging sisterhood beyond the Fellowship program. The opportunity to have in-depth discussions among themselves did not only allow them to learn unique and effective strategies in campaigning and governance but also led them to collaborate closely particularly given the pandemic crisis situation. The Angat Bayi Team also connected the Fellows to individuals and organizations who can collaborate with them to address other specific needs and concerns of their LGUs and constituents.
Contact us through [email protected]
[Updated: 28 October 2020]