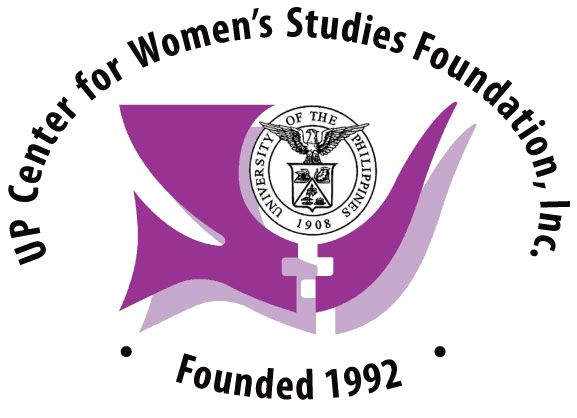 The University of the Philippines Center for Women's Studies Foundation, Inc. (UPCWSFI) is a non-stock, non-profit organization that works closely and actively with the University of the Philippines Center for Women's and Gender Studies (UPCWGS) in Diliman, Quezon City. Founded in 1992, the UPCWSFI has helped and supported the UPCWGS conceptualize and implement its numerous advocacy, research, training and outreach programs.
Over the years, the UPCWSFI has initiated research, training, and advocacy projects, supported by such organizations as OXFAM, Save the Children, COLLABDev, UNIFEM Bangkok, UNICEF, CIDA, UNFPA, and World Bank, among others. These trailblazing research projects like "Intrafamily and Household Violence," "Women-Centered Participatory Research and Development for Women's Health: A Women's Consortium Project," and "A Comprehensive Capacity Development Project for Integrating Reproductive Health and Rights Principles into Sexuality Education Curricula and Training/Advocacy Designs" (a UPCWGS, UPCWSFI, and Ford Foundation-assisted project) have carved a niche for the UPCWSFI in terms of expertise and commitment. Holistic and participatory in approach, the feminist methodologies used in these projects are being replicated in various programs and projects by government offices, non-governmental organizations, and other research agencies.
The UPCWSFI has been working closely with the UPCWGS and Angat Bayi Political Empowerment Program—now officially BAYI, Inc.—since its inception. Through this tight-knit partnership, countless initiatives have been implemented to address the contextualized needs of the Angat Bayi Fellows, such as responding to gender-based violence and violence against women and children. The initiatives spanned from drafting gender-transformative ordinances to conducting training with local government unit frontliners to consulting with Angat Bayi Fellows about their safe houses and shelters.
Contact Us
Carolyn I. Sobritchea, PhD
President
UP Center for Women's Studies Foundation, Inc.
Magsaysay Avenue corner Ylanan Street
University of the Philippines
Diliman, Quezon City 1101
Philippines

E-mail: [email protected]
Telefax: +63.2.89206950
Facebook: https://www.facebook.com/upcwsfiofficialfb/
[Updated: 22 September 2023]