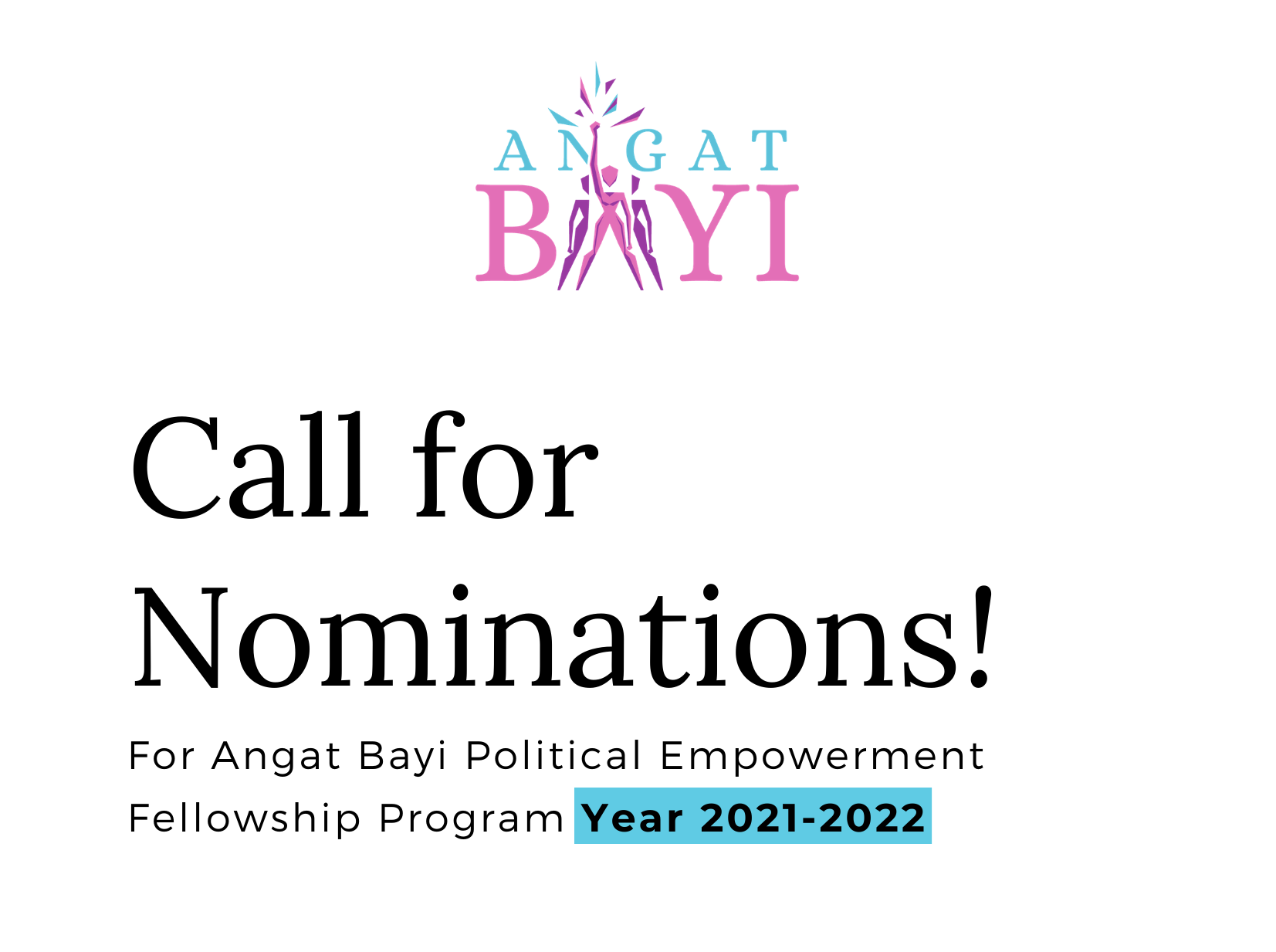 [NOTE: The deadline for nominations for the Angat Bayi Women's Political Empowerment Fellowship is extended until 19 February 2021 (Friday), 11:59 PM (GMT+8/Philippines Time).]
The University of the Philippines Center for Women's and Gender Studies (UPCWGS) and the UP Center for Women's Studies Foundation, Inc. (UPCWSFI) are opening the call for nominations for the Batch 3 of the Angat Bayi Women's Political Empowerment Fellowship (AB PEF). Angat Bayi recognizes the fundamental value of women's political participation in achieving women's empowerment and national development.
The program will select 30 women elected leaders (10 from NCR and Luzon, 10 from Visayas, and 10 from Mindanao) who will attend an intensive and exclusive series of online courses designed and customized specifically for them. The course will run for a period of one year.
Eligible nominees are women or trans women occupying the post of Mayor, Vice Mayor, Councilor, or Provincial Board Member in any city or municipality in the country, and who intend to run for another term or for a higher position. They must be committed to the following values:
feminist leadership;
inclusive, rights-based, and good governance;
building and protection of democratic institutions and processes; and
development of active citizenship among their constituency.
Nominees must also agree to their nomination.
Any Filipino citizen can nominate qualified women elected leaders by completing the application form (to be answered by the nominee) with the following requirements below through: http://bit.ly/abfellowsbatch3.
Nomination letter
Short essay of the nominee (maximum of one page) on why she wants and deserves to join the Angat Bayi Fellowship program
Curriculum Vitae of the candidate
Deadline for nominations is on 31 January 2021 (Sunday), 11:59 PM (GMT+8/Philippines Time).
Accepted Angat Bayi Fellows 2021-2022 will be contacted through the details provided once the results of the application have been finalized.
Should you have queries, please contact us through email: [email protected]