Site of Convergence: Changes in Perception of the World and Oneself After Miscarriage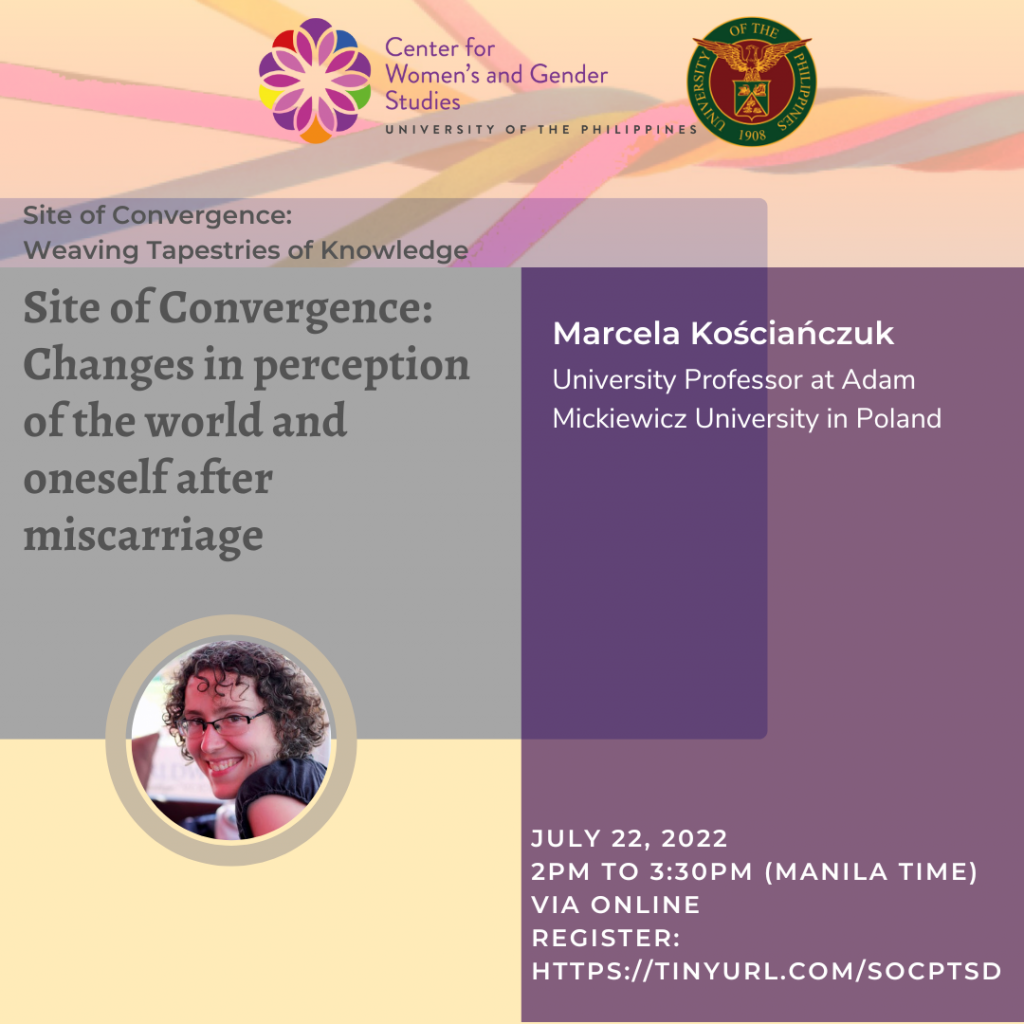 The University of the Philippines Center for Women's and Gender Studies (UPCWGS) invites everyone to Site of Convergence: Changes in Perception of the World and Oneself After Miscarriage on 22 July 2022 (Friday), 2:00-3:30 PM (Manila Time) via online. Our speaker for this event is Marcela Kościańczuk. This event is the eighth session of the "Site of Convergence: Weaving Tapestries of Knowledge" lecture series.
To register for the event, click here: https://tinyurl.com/SOCptsd.
The lecture presents the results of qualitative research based on 21 interviews with Polish women who experienced miscarriage up to three years ago. Marcela Kościańczuk used structured interviews based on the narrative free expression and then questions based on the areas of posttraumatic growth. Kościańczuk tried to analyze if participants of the research experienced changes that may be connected with strategies of coping with stress or posttraumatic growth.
Marcela Kościańczuk works as a University Professor at the Department of Cultural Studies in Adam Mickiewicz University in Poland (Poznan). She also has an MA in Psychology and is an art therapist and psychotherapist. She has published four books based on qualitative research (sometimes visual interviews). She is an author of several articles, and a few of them are available in English. She is interested in minority studies, women studies and medical anthropology, and connections between cultural studies and psychology. Her publications are about topics such as identity of Messianic Jews, understanding of safety and unsafety among Palestinian women, relations between social understanding of health conditions and personal perspectives of cancer patients, cooperation between psychologists and cultural workers in the field of coworking with refugees in Poland.
For registrants, links will be sent on the day before the event or earlier. Kindly wait for our email. If you have registered but did not get the link, send us your email via a private message on Facebook or email us at [email protected]