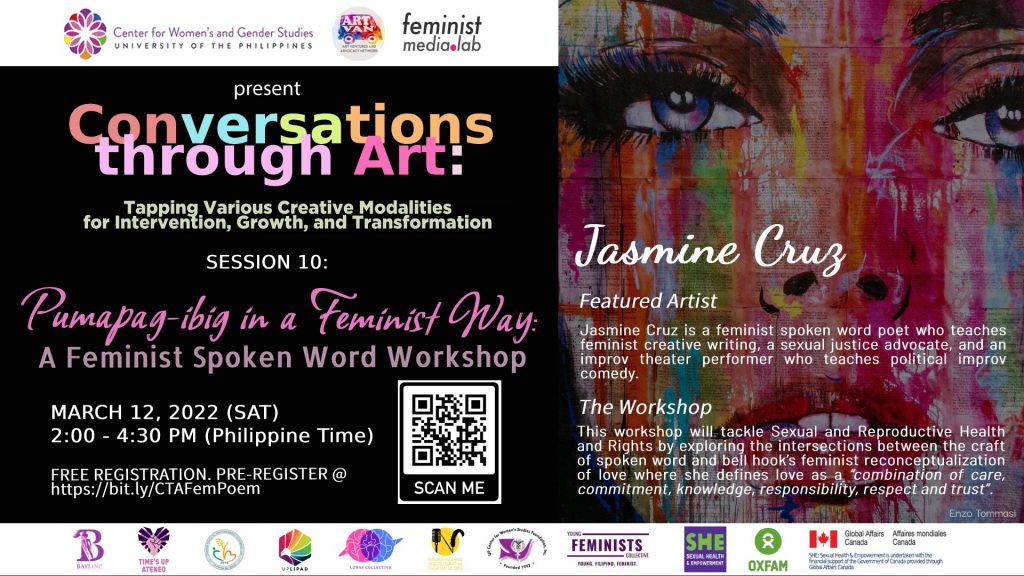 The University of the Philippines Center for Women's and Gender Studies (UPCWGS), the Art Ventures and Advocacy Network (ART VAN), and the Feminist Media Lab (FEMMELAB), in partnership with Bayi, Inc., Time's Up Ateneo, the Candon Youth for Empowerment Movement, Inc., UP Lipad, Lunas Collective, the Nagkahiusang Magsusulat sa Cagayan de Oro (NAGMAC), the UP Center for Women's Studies Foundation, Inc. (UPCWSFI), the Young Feminists Collective, Sexual Health and Empowerment (SHE), Oxfam, and Global Affairs Canada, continue with the discussion series, "Conversations through Art (CTA): Tapping Various Creative Modalities for Intervention, Growth, and Transformation," with Jasmine Cruz. The 10th session of the series, Pumapag-ibig in a Feminist Way: A Feminist Spoken Word Workshop, will be held on 12 March 2022 (Saturday), 2:00-4:30 PM via Zoom. The workshop will tackle sexual and reproductive health and rights by exploring the intersections between the craft of spoken word and bell hook's feminist reconceptualization of love where she defines love as a "combination of care, commitment, knowledge, responsibility, respect and trust." Through spoken word poetry, participants will learn how to reclaim romantic love from the clutches of patriarchy, celebrate friendship, and exult our bonds with our community.
Performing at the event are Alvin Bello Caldona and Jesame Villa.
Everyone is welcome to this workshop but we especially encourage young women to attend. Register at https://bit.ly/CTAFemPoem.
CTA is an initiative by artists, advocacy builders, social workers, and those in the helping professions to collectively promote arts for social change. Envisioned as a series wherein various creative modalities are highlighted in each session, the invited resource speakers will be individuals from different parts of the world who are making contributions to the establishment of the expressive arts practice or use specific creative modalities for personal-professional, community, and sectoral development.