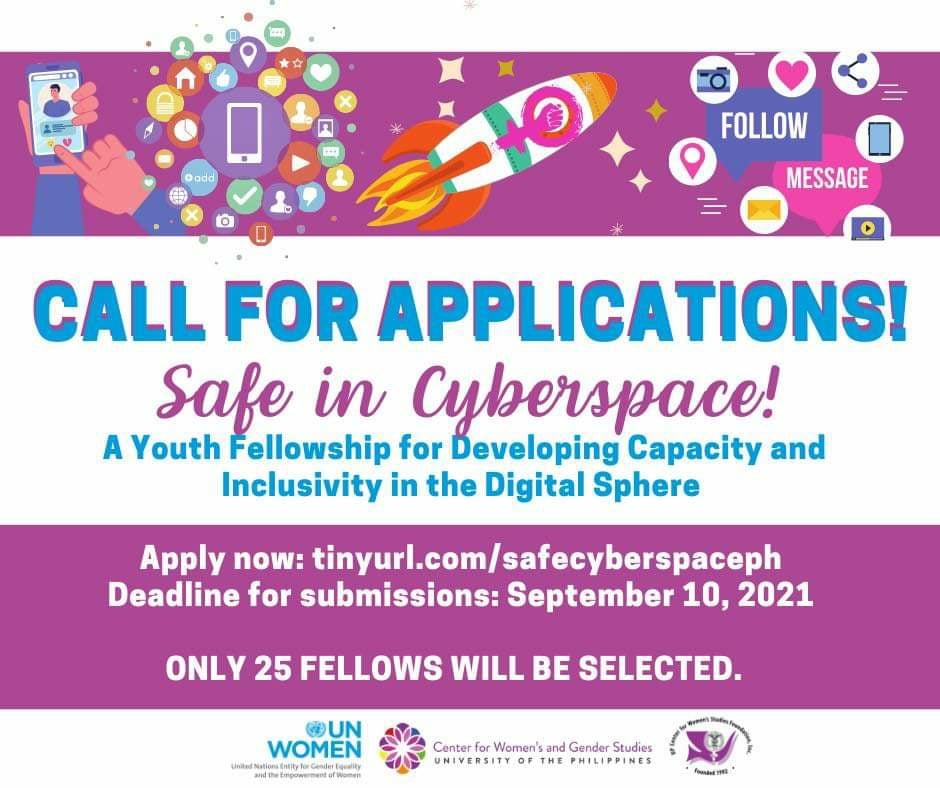 The University of the Philippines Center for Women's and Gender Studies (UPCWGS), in partnership with UN Women Philippines, is conducting a short course on digital literacy, Safe in Cyberspace – A Youth Fellowship for Developing Capacity and Inclusivity in the Digital Sphere, to counter hate speech and promote positive online engagement. Twenty-five fellows will be chosen to participate.
The objectives of the project are to:
Build media and information literacy skills for young leaders, with a focus on women, to facilitate their positive digital engagement.
Craft, pilot, and roll out an interactive and inclusive training module that includes concepts of feminism and media, cybersecurity, safe spaces, and mental health, among others.
Surface and analyze emerging issues of young leaders, advocates, and cyber defenders on online security threats prevailing in the Philippines.
Equip and empower young leaders, advocates, and cyber defenders in creating positive content online and countering hate speech, misogyny, sexism, and other online threats to women towards using social media as a platform for advocacy building.
Activities
The fellowship is a series of five (5) small group discussions on feminism, cybersecurity, and online advocacy, including creative workshops on photography, videography, and digital illustrations. Each session is about 4 hours. There will also be optional coaching sessions where participants can ask expert mentors for feedback in order to improve their outputs.
The topics are as follows:
Disinformation
Feminism, Misogyny, and SOGIESC
Cyber Hygiene and Cyber Threats
Creating Positive Space
Feminist Arts and Media
The dates and times of the sessions will be based on the Training Needs Assessment to be submitted by the aspiring fellows.
By the end of the course, we expect the participants to be able to appreciate and apply the principles of feminism, methods of advocacy, and practices of inclusivity in the online space. The fellowship will culminate in a graduation ceremony and virtual launch of materials created by the participants. Three fellows will be selected to participate in the international summit of UN Women.
Applicants: Eligibility Criteria
18-25 years old
Women and/or members of the LGBTQIA+
Must be able to attend and commit time to all sessions in order to receive a certificate from UN Women and the UPCWGS
Interested participants may apply through the link: https://tinyurl.com/safecyberspaceph.
The deadline for application is on 10 September 2021 (Friday), 5:00 PM Philippine Standard Time.
Inclusions
Load allowance for data/internet
Meal allowance
Basic vlogging kit (ring light, microphone, cellphone stand)
Certificate of Participation
Chance to participate in the international summit