Time's Up, Academia: Shifting Discourse, Reporting & Mentorship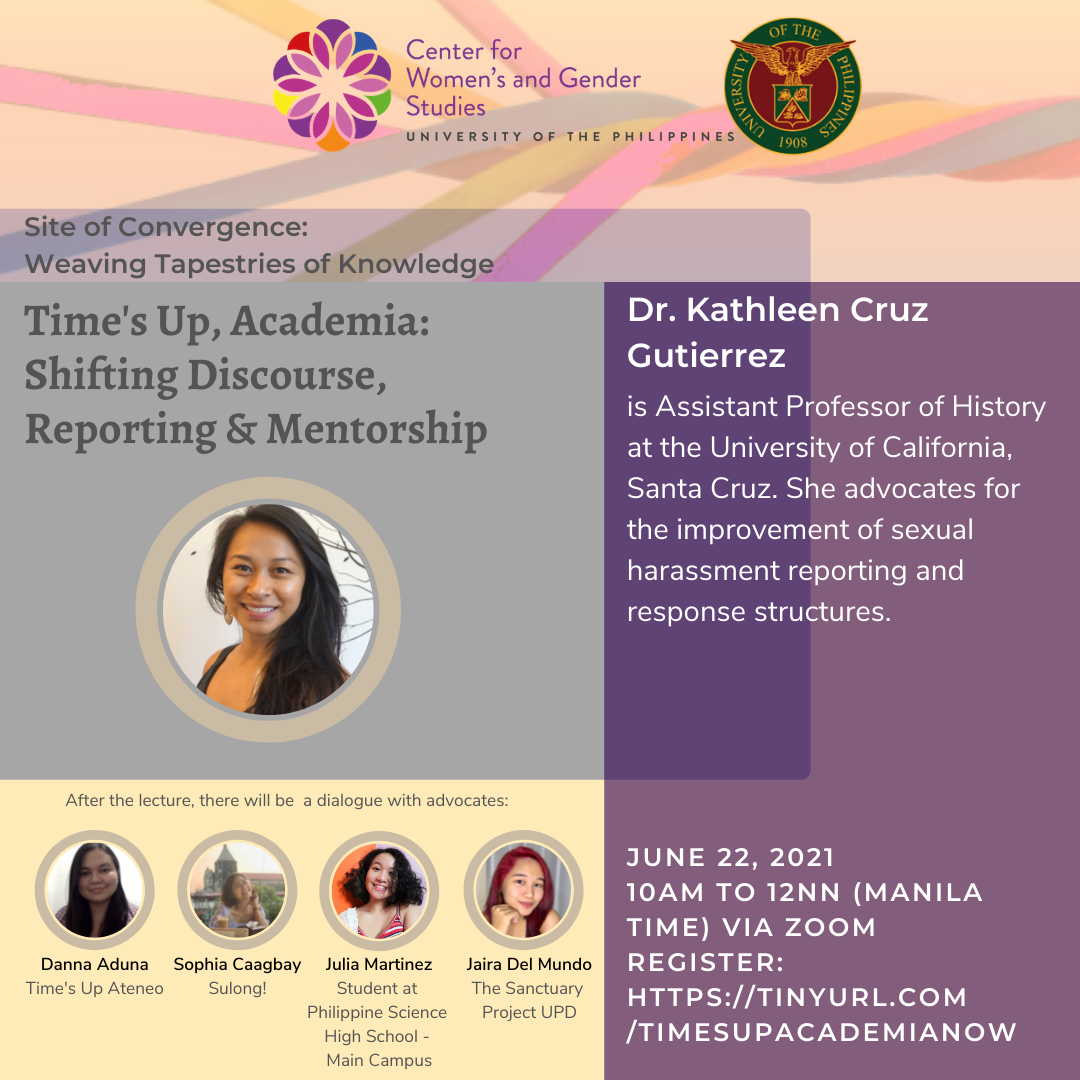 The University of the Philippines Center for Women's and Gender Studies (UPCWGS) invites everyone to the fourth session of the lecture series, "Site of Convergence: Weaving Tapestries of Knowledge," entitled Time's Up, Academia: Shifting Discourse, Reporting & Mentorship featuring Dr. Kathleen Cruz Gutierrez on 22 June 2021 (Tuesday), 10:00 AM – 12:00 NN (Manila Time) via Zoom.
Register here: https://tinyurl.com/TimesUpAcademiaNow.
Dr. Gutierrez will talk about how, as a graduate student at the UC Berkeley, she worked to address publicly the failures of sexual harassment reporting and response structures (https://www.dailycal.org/2018/02/13/laying-bare-berkeleys-metoo-moment). Dr. Gutierrez will also have a dialogue with representatives from school-based anti-sexual violence initiatives in the Philippines, namely Julia Martinez who is a high school student from the Philippine Science High School-Main Campus who proposed a prevention curriculum and harassment intervention plan, Sophia Caagbay who is the Deputy for Legal Aid of Sulong!, Danna Aduna who is an instructor of philosophy and the Publications and Research Coordinator of Time's Up Ateneo, and Jaira Del Mundo who is the Education and Research Head of The Sanctuary Project UPD.
Dr. Gutierrez (https://history.ucsc.edu/faculty/profiles/index.php?uid=kgutie20) is Assistant Professor of History at the University of California, Santa Cruz. She specializes in Philippine history, science and technology studies, and modern Southeast Asia. In 2015, she joined the UC President's Task Force on Responding to Sexual Harassment and Sexual Violence to influence policy reform across the UC system. She also organized with graduate students to demand more transparency for the campus adjudication process, which has since changed to reduce the number of hearings during which complainants are expected to verbally repeat their experiences of sexual harassment or sexual violence. For her efforts, she received the RISE Leadership Award from Berkeley's Gender Equity Resource Center in 2017. She has shared her insight and experience with UpFront-KPFA (Berkeley, 94.1) (https://kpfa.org/player/?audio=229063), The Guardian, National Public Radio, and most recently, at the Promoting Gender Equity and Fair Practices in Asian Studies virtual panel of the Association of Asian Studies.