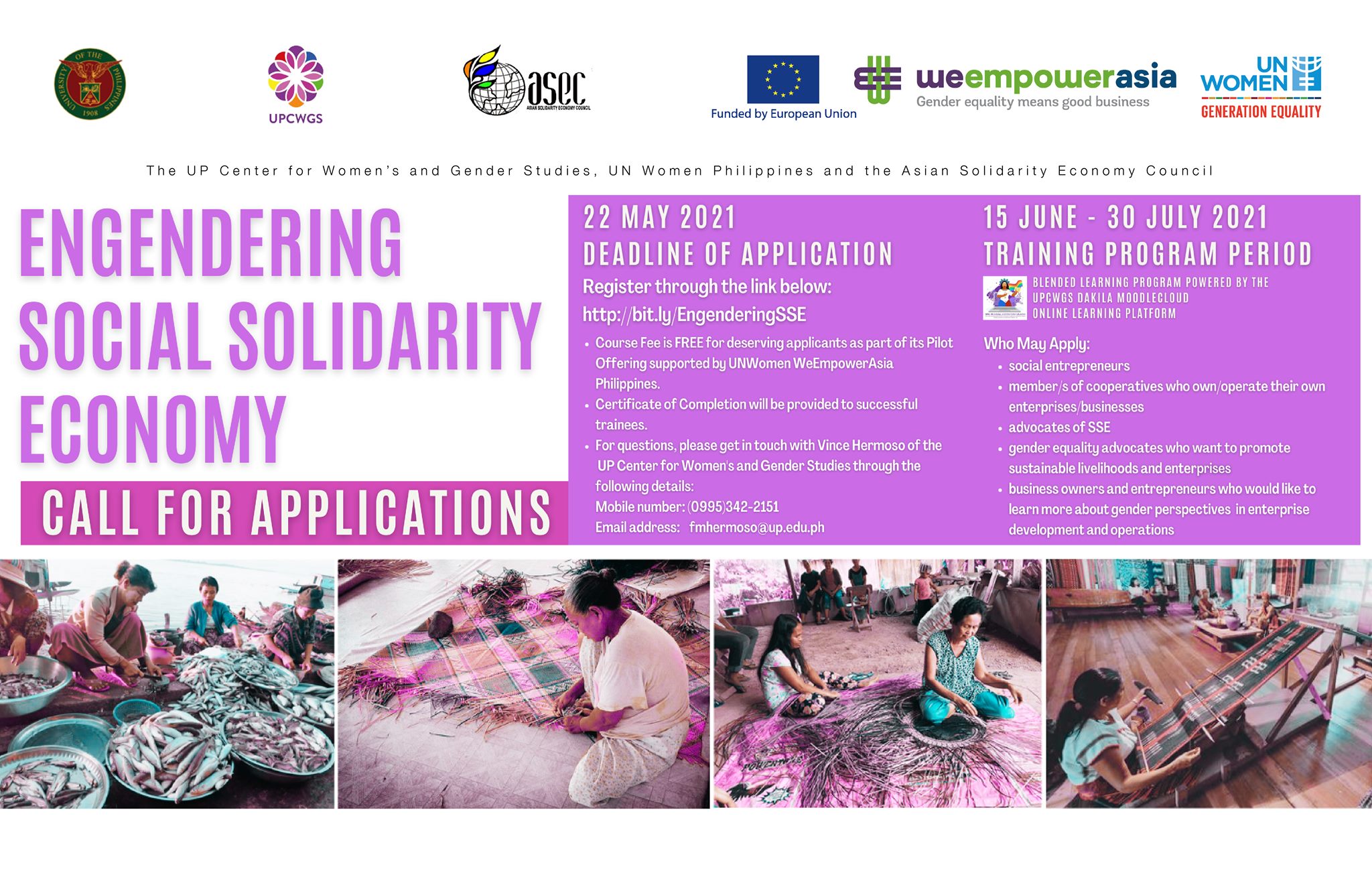 [NOTE: The deadline for application for the Engendering Social Solidarity Economy online training program is extended until 8 June 2021 (Tuesday).]
The University of the Philippines Center for Women's and Gender Studies (UPCWGS), the United Nations (UN) Women Philippines WeEmpowerAsia, and the Asian Solidarity Economy Council (ASEC) have collaborated in offering an online training program entitled Engendering Social Solidarity Economy (SSE). This blended learning program will run on 15 June – 30 July 2021 through the Data, Knowledge, and Information Launcher (DaKILa) online learning platform of the UPCWGS.
The course is FREE for deserving applicants as part of its pilot offering, which is supported by UN Women Philippines WeEmpowerAsia, a joint program by UN Women and the European Union (EU). Certificate of Completion will be provided to successful trainees.
Who may apply:
social entrepreneurs
member/s of cooperatives who own/operate their own enterprises/businesses
advocates of SSE
gender equality advocates who want to promote sustainable livelihoods and enterprises
business owners and entrepreneurs who would like to learn more about gender perspectives in enterprise development and operations
Interested applicants may register through the link:
http://bit.ly/EngenderingSSE.
Deadline for application is on 22 May 2021 (Saturday).
For questions, please get in touch with Vince Hermoso of the UPCWGS through the following details:
Mobile Number: 09953422151
Email Address: [email protected]