Last May 17, to commemorate the IDAHOT(International Day Against Homophobia, Transphobia and Biphobia), Thomson Reuters-Manila presented University of the Philippines Center for Women's and Gender Studies (UP CWGS) with new books. In a turnover ceremony at the TR office in Makati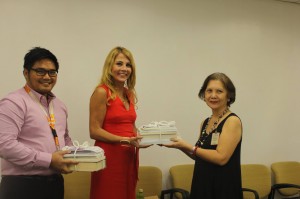 , librarian Ardis Gonzales received the books from Ms. Patsy Doerr, TR Global head of Corporate Responsibility and Inclusion.
These gifts will expand the LGBT book collection of the center.