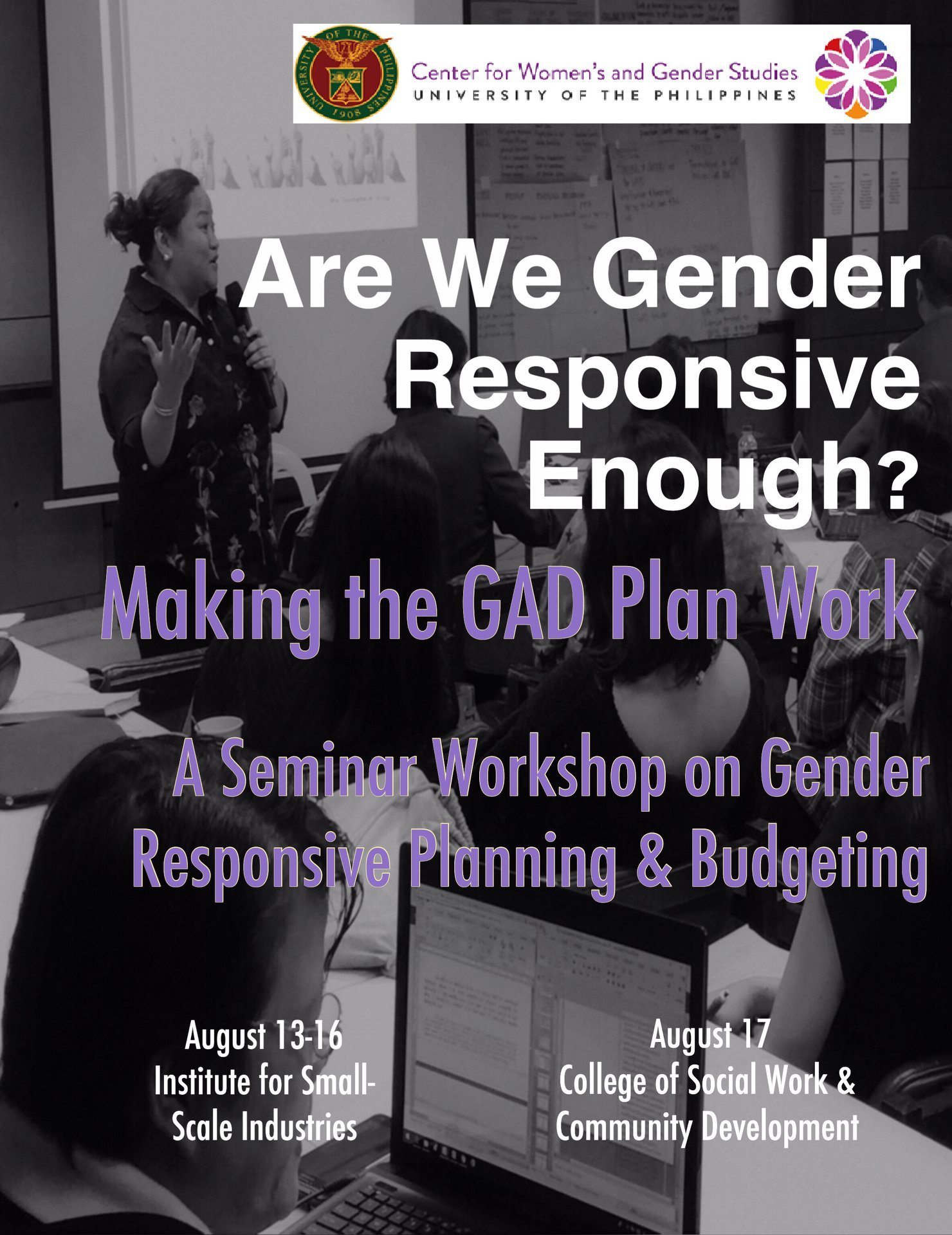 The University of the Philippines Center for Women's and Gender Studies (UPCWGS) is organizing an extramural entitled, "Are We Gender Responsive Enough? Making the GAD Plan Work: A Seminar-Workshop on Gender-Responsive Planning and Budgeting," on 13-17 August 2019 at the Institute for Small-Scale Industries (ISSI) and the College of Social Work and Community Development (CSWCD), UP Diliman.
IMPORTANT THINGS TO REMEMBER:
Training is open for members of the GAD Focal Point System of SUCs, government agencies, LGUs, and GOCCs.
Training fee of Php12,500 will cover food, materials, kit, and certificate.
Reply Slip should be accomplished and submitted to Vince Hermoso of the UPCWGS Training, Outreach, and Extension Program ([email protected]) on or before 2 August 2019.
Upon successful receipt of your Reply Slip, an OFFICIAL CONFIRMATION LETTER will be sent to your office. You will need to download or print this letter, and present it upon your arrival on the first day of training. Only those who will receive the OFFICIAL CONFIRMATION LETTER are counted as official participants for this extramural.
PLEASE MAKE SURE THAT YOUR ORGANIZATION HAS RECEIVED THE OFFICIAL CONFIRMATION LETTER BEFORE BOOKING YOUR FLIGHTS AND ACCOMMODATION. THE OFFICIAL CONFIRMATION LETTER WILL SERVE AS YOUR ORGANIZATION'S TRAINING PASS.
Reply Slip can be accessed here:
http://bit.ly/GRPBReplySlip
Should there be further questions, please feel free to get in touch with Vince Hermoso at [email protected], (+632) 9206950, (+632) 9818500 VoIP 4226, or 09358185499.