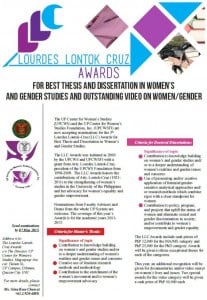 Deadline for submission is May 7, 2015
The LLC Awards was initiated in 2000 by the UPCWS and UPCWSFI with a grant from Atty. Lourdes Lontok-Cruz, president of the UPCWS Foundation from 1998-2009. The LLC Awards honors the contributions of Atty. Lontok-Cruz (1923-2011) to the strengthening of women's studies in the University of the Philippines and her advocacy for women's equality and gender empowerment.
Nominations from Faculty Advisers and Deans from the whole UP System are welcome. The coverage of this year's Awards is for the academic years 2011-2015. Please help circulate.