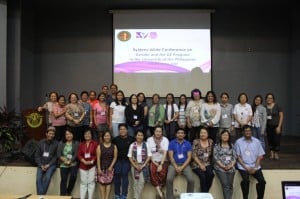 The University Center for Women's and Gender Studies (UCWGS) led the three-day System-Wide Mini Conference on Gender and the GE Program in UP and Assessment of the State of Gender-Mainstreaming in the Curriculum held last January 11-13 at UP Visayas, Miag-ao Campus, Iloilo.
The mini conference gathered gender coordinators and other faculty members from various constituent units (CUs) to deliberate about the resolution calling for the inclusion of a specific course on gender relations in the new GE framework of the University of the Philippines and to survey the state of gender mainstreaming in the current curriculum.
The said paper was approved as a draft resolution in an inter-center coordinating committee meeting last June 23, 2015. This meeting was attended by the coordinators of the gender centers/committees/programs from different CUs. The resolution recognized the significance of mainstreaming gender concerns in the curriculum to ensure that UP students will be critical and compassionate thinkers who are committed to the promotion of equality, equity and social justice.
During the mini conference, the resolution, with additional provisions, was approved by the group. The group submitted recommendations, like, to add the word gender-sensitivity in the objectives and to include the CU's gender center coordinator in the committee that review the GE curriculum.
UPV Chancellor Rommel A. Espinosa opened the said activity. Main speaker was Prof. Severa Katalbas, member of UPV GE Steering Committee and Associate Dean of the College of Arts and Sciences. She presented the Revised UP GE Framework paper. Faculty members from the CUs shared the syllabi of the gender courses they facilitate. For UP Diliman, Prof. Ma. Theresa Payongayong presented the Social Science III syllabus and Prof. Rommel Rodriguez the Panitikang Pilipino 19. Prof. Doris Wilson, Narcisa Canilao and Erlinda Palaganas of UP Baguio explained about the Social Science 13 syllabus. Other presenters were UP Manila's Prof. Reynaldo Imperial for History 4, UPV Tacloban's Prof. Anida Bernadette Batan-Lorenzo for Social Science 5, UP Los Baños' Prof. Amelia Bello for Ecology 10 and UP Open University's Prof. Rameses de Jesus for Social Science 13. Also, workshops were conducted to identify potential GE gender course methods of inquiry and competencies.
Participants of the mini conference hoped that a specific gender course on gender relations be included in the new GE framework. At the time of this writing, the University Council of UP Diliman has decided to convene a committee to study the current hybrid GE.