May mali ba sa 'kin? Importante pa ba 'to? Exploring Older Women's Perceptions of Womanhood and Sexuality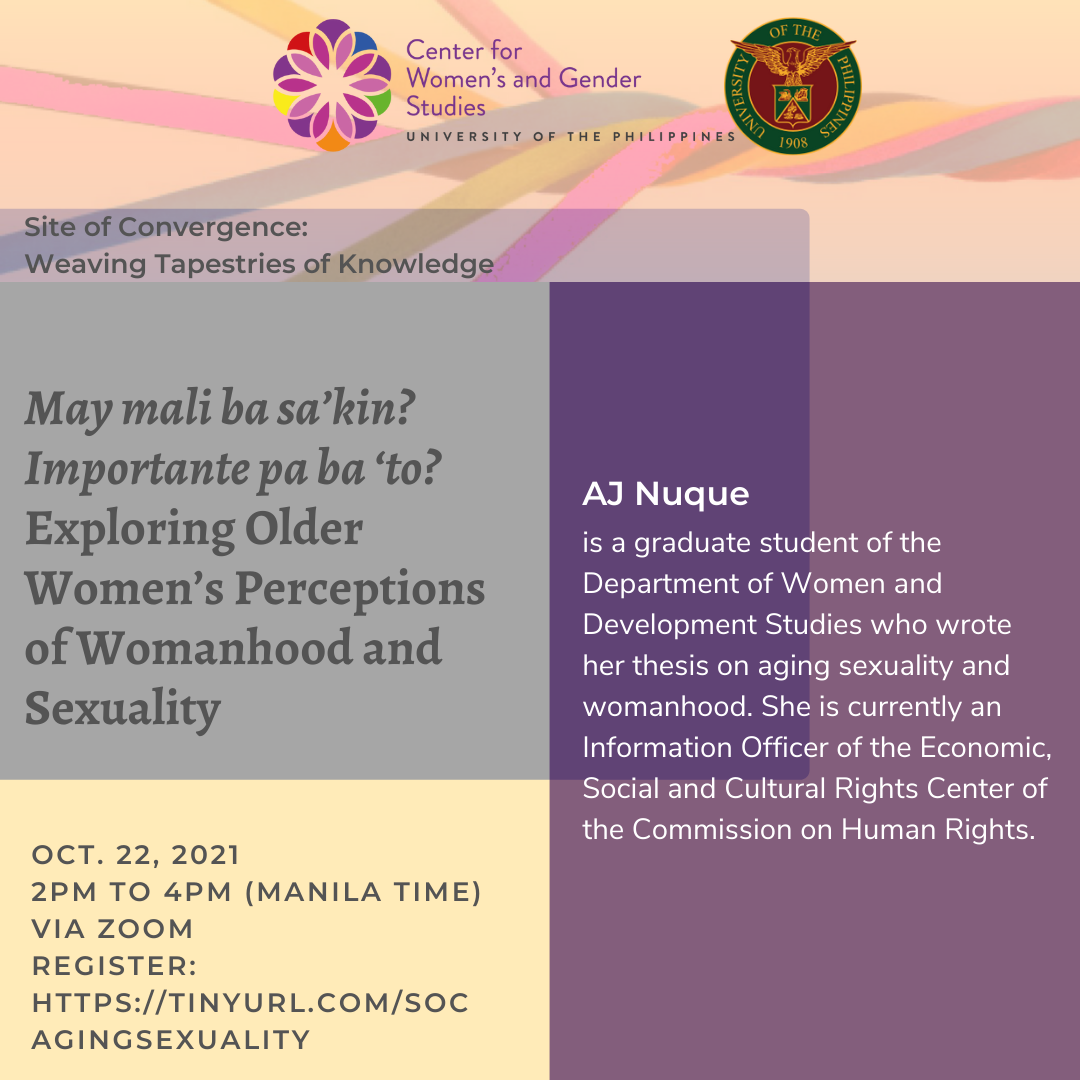 The University of the Philippines Center for Women's and Gender Studies (UPCWGS) invites everyone to May mali ba sa 'kin? Importante pa ba 'to? Exploring Older Women's Perceptions of Womanhood and Sexuality on 22 October 2021 (Friday), 2:00-4:00 PM (Manila Time) via Zoom. This event is the sixth session of the lecture series, "Site of Convergence: Weaving Tapestries of Knowledge."
Register via https://tinyurl.com/SOCAgingSexuality.
Our speaker is AJ Nuque. She is a graduate student of the Department of Women and Development Studies and currently an Information Officer of the Economic, Social and Cultural Rights Center of the Commission on Human Rights.
In the webinar, she will talk about her thesis on aging sexuality and womanhood. Drawing from data from in-depth interviews with older women aged 60 and above, her thesis explores how older women define, perceive, and give importance to sexuality and womanhood in later life and situates aging sexuality in gender and development discourse. Through these stories, we are invited to look at new ways we can understand and experience aging, sexuality, and womanhood beyond the heteronormative and romantic lens.
Reminders for registrants:
Please make sure to create a Zoom account, and log in your Zoom account before you click on the webinar link. Individuals who do not have a Zoom account and are not logged in will not be able to enter the Zoom webinar.
If you have registered but did not get the link, send us your email via a private message on Facebook or email us at [email protected]