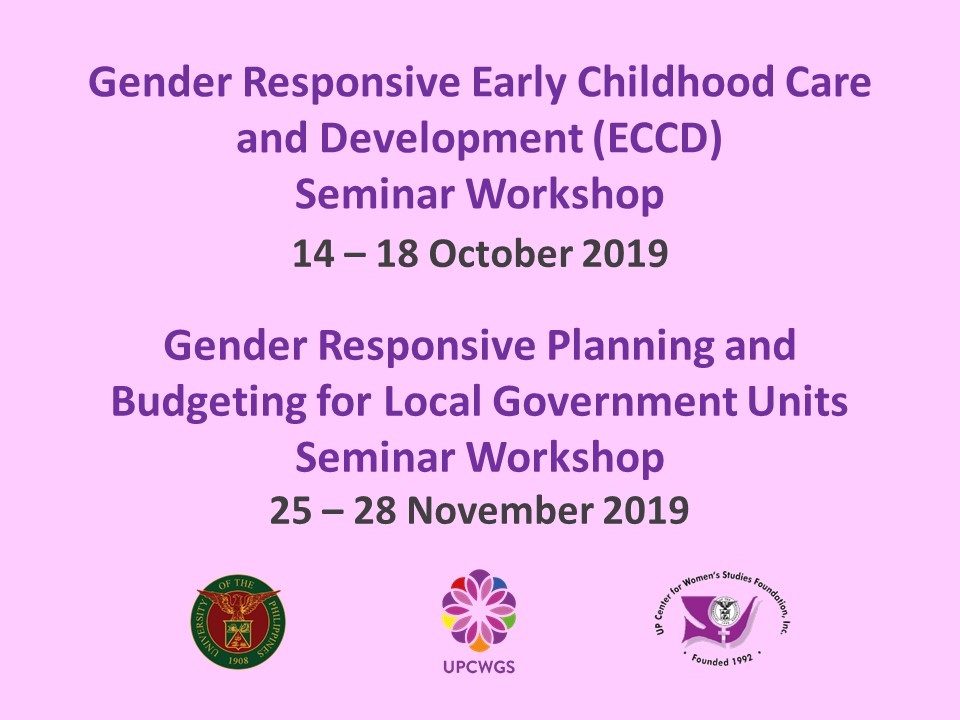 [NOTE: The extramural on Gender Responsive Planning and Budgeting for Local Government Units is rescheduled from 25-29 November 2019 to 25-28 November 2019.]
The University of the Philippines Center for Women's and Gender Studies (UPCWGS) is organizing the following training and extramural activities for the last quarter of 2019:
Gender Responsive Early Childhood Care and Development (ECCD) (14-18 October 2019)
The training aims to enhance the capacity of ECCD practitioners when it comes to providing childhood care under their supervision. It also aims to provide updated knowledge and skills on ECCD, as well as on ensuring the gender responsiveness of the facility.
Training Fee: P10,000.00
Gender Responsive Planning and Budgeting (GRPB) for Local Government Units (25-28 November 2019)
The training aims to capacitate and enhance the skills of the participating sectors when it comes to the preparation of the Gender and Development (GAD) Plan and Budget (PB) Report, and the GAD Accomplishment Report (AR) that all government offices are mandated to submit yearly to the Philippine Commission on Women (PCW), the Commission on Audit (COA), and the Department of Budget and Management (DBM).
Training Fee: P10,000.00
Interested organizations and participants may get in touch with Vince Hermoso of the UPCWGS Training, Outreach, and Extension Program at (+632) 9818500 VoIP 4228, (+632) 9206950, 09358185499, 09612595082, or [email protected]