Session 01: Storytelling and Literary Expression in Healing from Sexual Abuse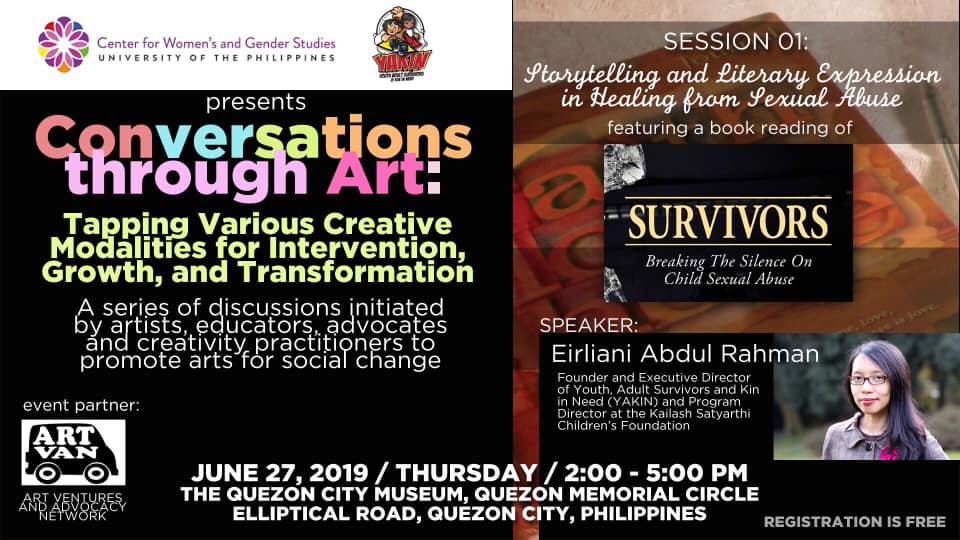 The University of the Philippines Center for Women's and Gender Studies (UPCWGS), together with the Youth, Adult Survivors, and Kin in Need (YAKIN), and the Office of the Vice Mayor of Quezon City, is hosting Eirliani Abdul Rahman for the launch of a discussion series entitled, "Conversations through Art: Tapping Various Creative Modalities for Intervention, Growth, and Transformation," which aims to promote art for social change. The first session of the series, Storytelling and Literary Expression in Healing from Sexual Abuse, features a book reading of "Survivors: Breaking the Silence on Child Sexual Abuse," which was co-authored by Ms. Eirliani and published by Marshall Cavendish Asia in 2017. Ms. Eirliani is the co-founder and Executive Director of YAKIN, which helps child victims and adult survivors of child sexual abuse, and the Program Director of the Kailash Satyarthi Children's Foundation.
Date: 27 June 2019 (Thursday), 2:00-5:00 PM                                                                                   Venue: QCX: Quezon City Experience, Quezon Memorial Circle
Conversations through Art is an initiative by artists, advocacy builders, social workers, and those in the helping professions to collectively promote arts for social change. Envisioned as a series wherein various creative modalities are highlighted in each session, the invited resource speakers will be individuals from different parts of the world who are making contributions to the establishment of the expressive arts practice or use specific creative modalities for personal-professional, community, and sectoral development.